THE GIN-TAI TIBETAN SPANIELS


In 1993 ,after a serious accident, I could no longer continue the extensive grooming and lifting necessary to ready a Chow Chow for the Show Ring. So, through the kindness of Betty and Herb Rosen, pioneer breeders and exhibitors of the Tibetan Spaniel Club of America, I was able to obtain a wonderful foundation Tibbie bitch. Bred only twice,"SOX" was the dam of three AKC champions, grand-dam of three AKC Grand-Champions, and a total of eight AKC Champions. Out of only two litters, she was dam of 6 out of 8 pointed progeny! Obtaining an excellent 'Foundation Bitch' is probably the single most important factor in producing quality show dogs


AKC Ch BET'R BOBBY SOX AT GIN-TAI,ROM


Bred to: AKC Ch Tiara's Riverboat Captain,OFA,

"CAPTAIN"
Produced:
AKC Ch Gin-Tai's Tux-N-Tie Guy,

"TY-GUY",
AKC BREEDER/OWNER Medallion Winning
Sire of
AKC Ch Gin-Tai's The First Edition,

"EDDIE";


"SOX":Bred to:AKC Ch Bet'R Spotlight For Gin-Tai,

"SPOT"
Produced:


Born in 1998, AKC GrCh,Ch INT Ch Gin-Tai Chatawa Peter Punkin, ROM,RN,CGC,TT,
"PETE"
Earned His Register of Merit (ROM), awarded at The 2013 TSCA National Specialty,
As a Veteran Dog, as sire of only one litter of five puppies!
AKC/Eukanuba National Championship
Top Twenty-Five Tibetan Spaniels 2003-2006 and 2011

Sire of AKC GrCh Ch Kofuku Adds A Sparkle At Gembox,Too,

"SPARKLE"

AKC GrCh Ch, INT Ch Kofuku Sugar'N'Spice At Chatawa,CGC

"SUGAR"

AKC GrCh Ch Kofuku Bullet-Proof At Chatawa Too

"BULLET"

AKC Ch INT Ch Kofuku Punkin's Dark Knight

"BRUCE"

...AND...
AKC Ch Kofuku Gin-Tai's James Bond,

"007-BOND"



&
AKC Ch Gin-Tai's Blaque Bhu-Ti,
Tri-colored AKC Breeder/Owner Medallion-Winning
Dam of AKC Ch Gin-Tai's Zesty Starla
Owner/Breeder/Handled to her championship by Kathryn E Phillips

and
AKC Ch Gin-Tai's Bud-Z Boi!
SOX was also the dam of Gin-Tai's Peppermint Patty(14 points);
Major-pointed Parti-colored daughter, Sno-Too's Joy Of Gin-Tai; and
Gin-Tai's Prissy Missy, pointed dam of
Ch Gin-Tai's The First Edition, 'EDDIE'!
Here begins the story of my present major interest in breeding and showing
TIBETAN SPANIELS
MY LOVE AFFAIR WITH THE DOG SHOW WORLD!
It takes a very special HUMAN BREED to survive the heartaches, joys, wins and losses of the hardy group of individuals who comprise the DOG SHOW WORLD! To those of us who are truly, and eternally committed to the breeding, training, and exhibiting of the purebred dog, nothing could be more fun! We willingly dedicate ourselves to this endeavor and gladly make the necessary sacrifices and adjustments in exchange for the greatest LOVE OF ALL: UNCONDITIONAL LOVE! That is what a DOG'S LOVE MEANS TO THOSE OF US: "GONE TO THE DOGS"!
Ch BET'R BOBBY SOX AT GIN-TAI,ROM

~~IN LOVING MEMORY~~1993-2008~~


BRAVENET SlideShow HERE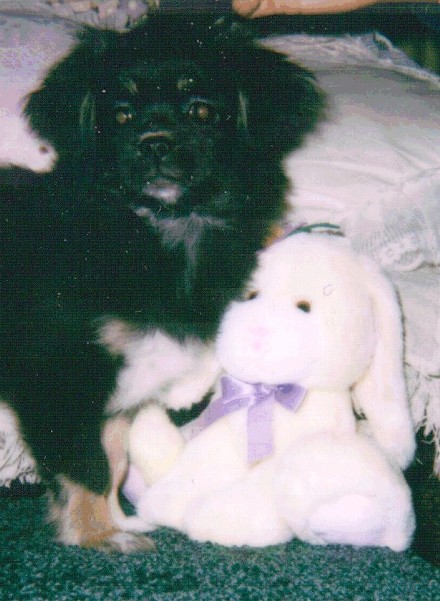 IN LOVING MEMORY OF Ch GIN-TAI'S BLAQUE BHU-TI

~~1998-2009~~

A MEMORIAL WEBSITE For "BEAUTY"


SITE INDEX

MY HOME IN ALABAMA: Story of SANDERS, HELEN, and PICKENS RUSSELL and succeeding generations of the Russell/Phillips Family featuring early photographs and links to Harness-Horse History. NEW:ChristmasSlideShow: Circa 1897 "My Home in Alabama",Victorian Farmhouse,Stevenson,AL

STEVENSON DEPOT DAYS.COM: "Stevenson, Alabama Depot Days Festival" Visit Stevenson Depot Days & Historic Downtown Stevenson, Alabama

WHAT'S IN A TITLE?: What does A Title Really Mean? Find out about our AKC Champion "Tibbies" at Home in Alabama,The "Gin-Chows of YesterYear", and USTA Living Hall of Fame 1962 Hambletonian Winner: Sanders Russell, born and raised at "MY HOME IN ALABAMA"

"REFLECTIONS BY KATHRYN":Visit and Join our GROUP SITE at WORDPRESS.COM, where we have moved our old MULTIPLY site. NEW SlideShows, Videos, & LINKS!

GIN-TAI SPOT: We're A Year-Round Holiday Website Our Year-Round Holiday Website is hosted by: The Gin-Tai Tibbies

"MY DOCTOR BILL": A Memorial Tribute for the late Dr. William Prince Bryant, a former student of mine who saved my life as a Sports Medicine Specialist, and his acts of kindness and caring for the small town where he was born: Stevenson, Alabama.

2008 PETE & SHORTY LITTER

THE BIRMINGHAM KENNEL CLUB MATCH SHOW