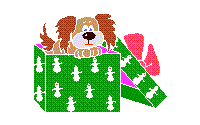 "My Tibbie looked under the Christmas
Tree,

Just to see what she could See,

Curiosity, that Tibbie Trait,

Made it much too hard to Wait,

So, tipping on those "Tibbie Sox",

Cat-like, she sprang upon the Box,

Deftly, lifted up the Lid,

Jumped into the Christmas Box,
and HID,



Wonder how she used those
"Tibbie Hands",

Which long ago in Himalayan Lands,

According to Buddhist tales of Yore,

Spun Prayer Wheels as a daily Chore?

Inside the Box, she rattled Tissue,

Just daring me to make this an Issue!

Wisely, aware of "Tibbie Spite",
I did not;
knowing I'd never win that
Fight!



Patiently, I waited for my
"Tibbie Surprise",

A "Tibbie Trick" to meet my Eyes?

Quietly, I crept beneath the Tree,

Just to see what I could see,

Inside, I saw the Sweetest Sight,

My Tibbie bathed in Christmas Light,

Sound asleep, with forepaws crossed...
In "Tibbie Fashion",

She'd exercised a "Tibbie Passion"!



~Sleeping on things Elegant,~ Soft,~ and
Warm,~

And doing them absolutely no Harm~

For A Bed, she could find nothing
Better,

Than My...
Christmas
CASHMERE SWEATER!"



Snow Globe By:... SALEM ...
...Original Graphic Gift for my beloved...
Ch BET'R BOBBY SOX AT GIN-TAI, ROM...
~~~~~~~~~~1993-2008~~~~~~~~~~
Fifteen Years of 'UNCONDITIONAL LOVE'

"SPARKLE's" CHRISTMAS POEM
"SOX's" SPIRIT Lives On..
A "SOX" grand-daughter, "SPARKLE", likes CHRISTMAS TREES, too!

ORIGINAL POETRY BY...
Her Owner/Handler and BEST FRIEND...
Kathryn E. Phillips...
THE GIN-TAI TIBETAN SPANIELS...