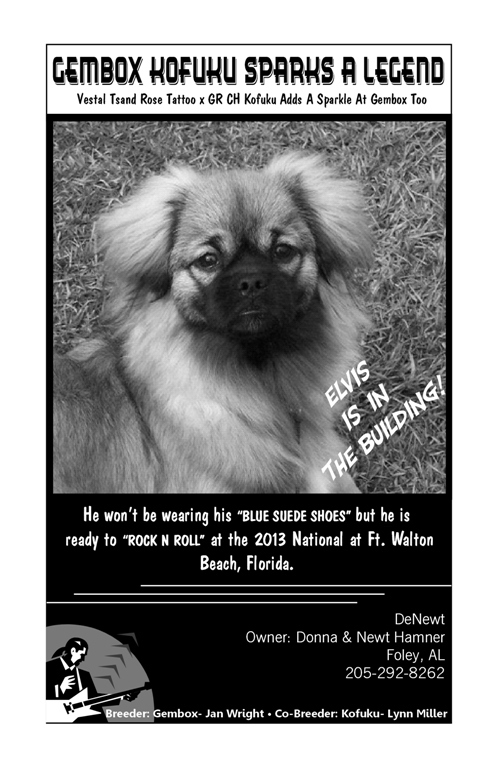 "ELVIS'S" BREEDERS: Janet Wright & Marilynn Miller
OWNERS: Donna & Newt Hamner

HANDLER: Donna Hamner, Foley, AL

2013 TSCA NATIONAL SPECIALTY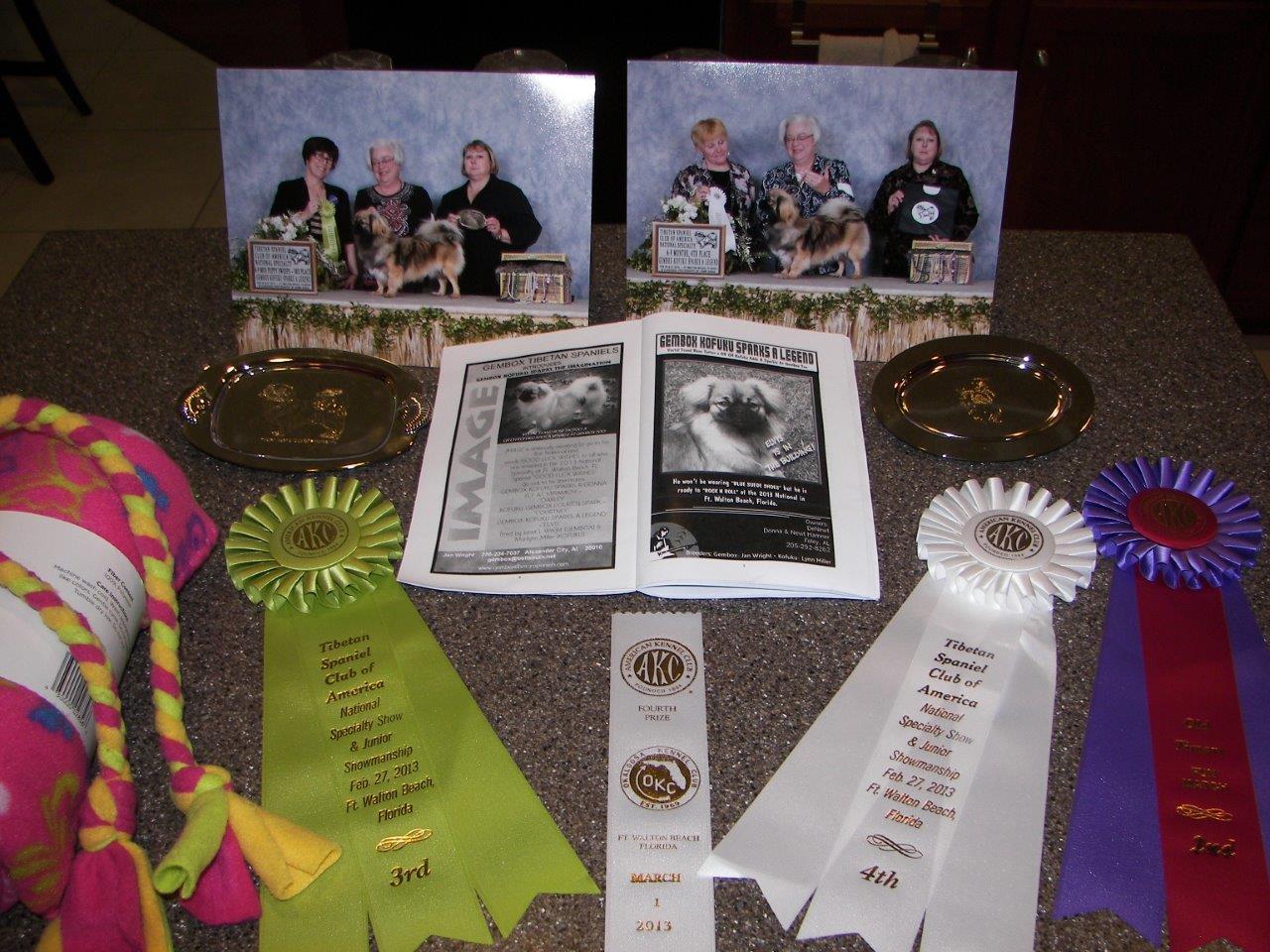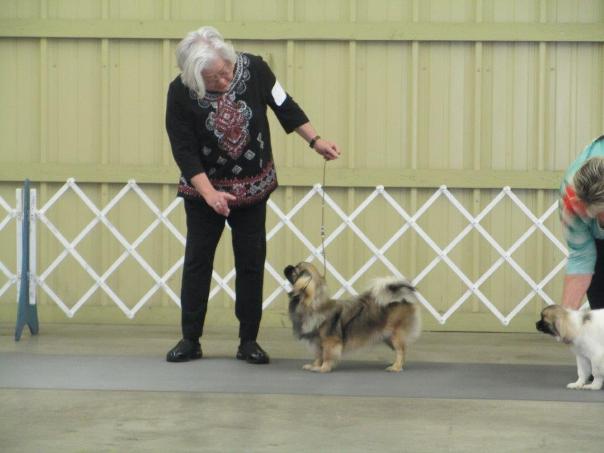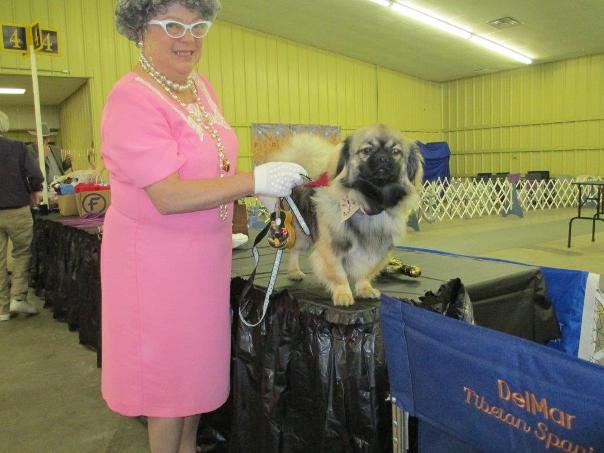 PHOTOS:TOP-BOTTOM:Ribbons & Trophies Won in Sweeps & 6-9 month Puppy Dog Class by ELVIS & Donna
Donna & ELVIS winning Placement in 6-9 Month Puppy Class in SWEEPS
JUDGE:Mrs. Mallory Driskill
Donna & ELVIS having fun at THE OLD TIMER FUN MATCH





JUDGE: Ms. Denny C Mounce
"SPARKLE'S" SIRE: GrCh Ch,INT Ch GIN-TAI CHATAWA PETER PUNKIN, RN,TT,CGC, ROM,
"PETE"
"SPARKLE'S" DAM: Ch KOFUKU SWEET SHORTY TOO,ROM-X
"SHORTY"


First AKC WIN for "ELVIS"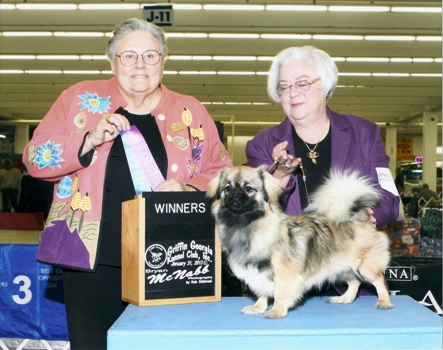 "ELVIS" and OWNER/HANDER: Donna Hamner...winning at "The Winter 2013 Cherokee Rose Cluster", Atlanta, GA
Thursday, January 31, 2013.

ADDITIONAL 2013 WINS
AT...WINNERS & BRAGGING RIGHTS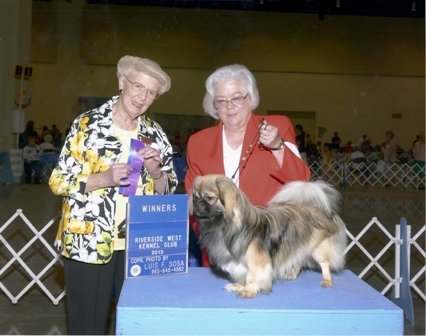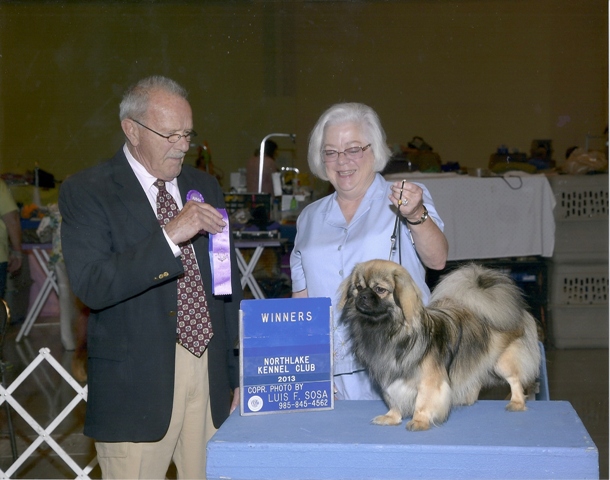 DONNA & "ELVIS" took an OWNER/HANDLER BEST of BREED
And...
OWNER/HANDLER GROUP 3
AT...
THE MOBILE KC on Saturday, September 7, 2013
Congratulations!

See ELVIS'S ALBUM at FACEBOOK:


CLICK HERE!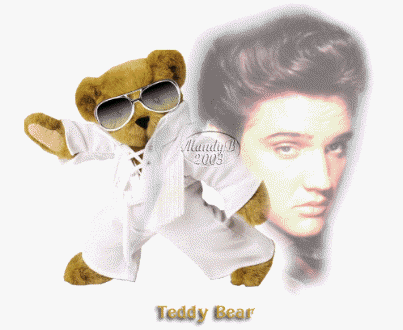 "BUD" & "BELLE'S 2010 LITTER

SIRE:Ch GIN-TAI'S BUD-Z-BOI, "BUD"

This Web Page is a Special Gift from:"THE GIN-TAI TIBETAN SPANIELS" AND...
Kathryn E Phillips, Web Master, to our friends...
DONNA & NEWT HAMNER of "DE NEWT TIBBIES" "BELLE"and"BUD'S"
Litter of two girls and two boys whelped on January 17, 2010...

Pictured:"RANGER" & "SHINE"

Pictured:"CHARM"

Pictured:"ROMEO"





See ELVIS'S ALBUM at FACEBOOK:


CLICK HERE!

SIRE: Ch Gin-Tai's Bud-Z-Boi X DAM: Ch Tibroke's Wishin' On A Star

PEDIGREE of LITTER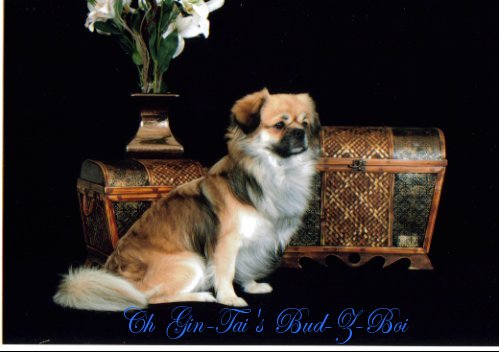 "BUD'S" BREEDER/OWNER: Kathryn E. Phillips
CO-OWNER: Allen N. Hamner
TRAINER/HANDLER/'RESIDENT MOM': Donna Hamner
"BUD'S" SIRE: Ch Ambrier's Zesty Zesty Sudz
"BUD'S" DAM: Ch Gin-Tai's Blaque Bhu-Ti

THE GIN-TAI TIBETAN SPANIELS

OUR MAIN INDEX